"It's the birthday of a family member soon and i'm looking for a very special gift"
"I want to offer a portrait for a wedding, with the story of the couple inside, how they met and their interrest center"

You want a biographical portrait of somebody you know, for a birthday present, christmas gift or wedding gift ?
I do custom portrait, from pictures and a biography or short text, here are few examples of custom artwork and links to order one :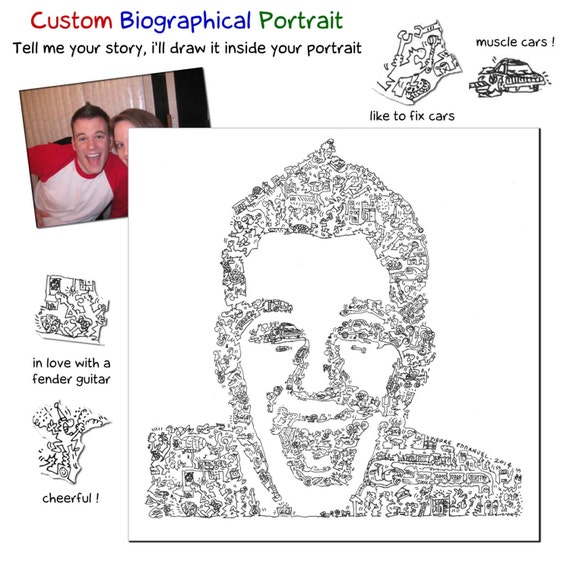 For 1 character, the perfect present for a birthday !
- EXAMPLE  -
" Hi, i would like to get the picture of me to offer to my boyfriend, hope the few pictures i'm sending will be allright ! I'm desesperate for a marriage proposal. If you could make some drawings talking about that ?
some things about me i want to see inside the portrait
- i love to shopping
- my dog is an irish setter and is called "flash"
- i'm working as school teacher
- i love to eat sushi and strange japanese food
- i hate my alarm clock
- we've been travelling a lot, and love hiking in mountains
I really look forward to receive the picture !
Different sizes are available :
20 x 20 cm / 8″ x 8″
25 x 25 cm / 10″ x 10″
30 x 30 cm / 12″ x 12″
Get your biographical portrait for one here
For 2 people, the perfect present for a wedding !
- EXAMPLE  -
" Hi, i would like to offer a picture as a wedding gift for a close friends  couple"
Can you insert the following elements inside.
SHE : she is into horseriding, handcrafting, loves cats and is a huge disco fan.
HE : He is italian, they met in parma, he is huge fan of Michael Jackson.
Different sizes are available :
20 x 30 cm – 8″ x 12 inches
25 x 35 cm – 10 x 14 inches
30 x 40 cm – 12 x 16 inches
40 x 50 cm – 16 x 20 inches
40 x 60 cm – 16 x 24 inches
50 x 70 cm – 20 x 28 inches